School Sponsorship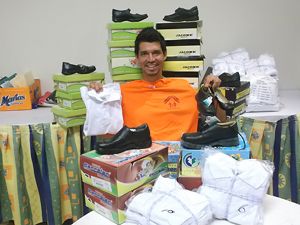 Not every child in Mexico gets basic education. The poorest children are often not legally registered, and of those who are, many cannot afford the cost of clothing, books and supplies required to attend school.
So in 2007, we created the School Sponsorship Program with a simple, but ambitious goal: Enroll every child in the Hope neighborhood in school. In 2007, we enrolled 30 children. Today, with the overwhelming support of our sponsors, we have enrolled nearly 300 children.
Beyond primary and secondary education, we also now have 23 attending technical prep and five others at the university. With these successes, we know now we're able to break the cycle of poverty in these families. It is working!
Program Costs
You can sponsor a child through secondary school for just $250 per year. Secondary education, completed at the age of 15, is effectively the minimum education needed to get a living-wage job in Mexico.

Yearly Educational Costs (Kinder-Secondary)

School family fee

$300.00 pesos

Daily uniform

$500.00 pesos

Sport uniform

$450.00 pesos

School supplies family fee

$250.00 pesos

Back pack

$200.00 pesos

School supplies and workbooks

$550.00 pesos

A medical emergency a year

$300.00 pesos

Computer and English at the Center

$575.00 pesos

Total

$3,125 pesos

Dollar total (pesos / 12.5)

$250 USD / Canadian
Beyond Secondary: Technical Prep Sponsorships
While completing secondary is essential, to thrive and become successful, young people need technical preparation and, for the most ambitious, university education.
Technical Preparation is age-equivalent to high school, but is career focused. As of fourth quarter 2013, we had over 20 young people enrolled preparatory schools studying subject such as tourism, information technology, childcare, business/sales, and food/beverage industry.
You can sponsor a young person in preparatory school for just $350 per year
Beyond Technical Prep: University Sponsorships
University is the next level of beyond technical prep. We currently have five students enrolled in the university for psychology, teaching, tourism, business administration and nursing. Program costs vary, but for nursing, for example, the cost is approximately $2,000 USD per year.
If you are interested in becoming a full or partial sponsor of our university students, please email info@familiesatthedump.com.
How We Build Success
The Families of Hope suffer not only economic hardship, but also live within a system of poverty that's difficult to escape.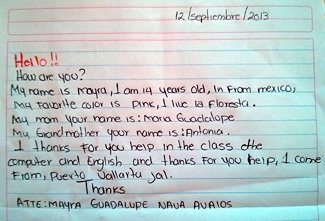 Driven by factors such as psychological trauma, lack of education, and negative cultural pressures, our greatest challenge isn't just providing kids and families opportunities, it's to create change inside of them to take those opportunities.
That's why we've added a lot structure to the School Sponsorship Program. We not only make sure the money is properly spent, but we are continuously making improvements to increase the success rate of participants.
1. We never give money directly to the families. The foundation pays all fees and buys all goods and distributes them to participants.
2. We encourage families to pay the initial $300 peso registration fee, giving them a financial "stake in the game." This fee is then reimbursed during the Christmas season.
3. Families and children sign a contract with the Foundation – representing you, the sponsor – agreeing they will attend school for the entire term.
4. We require all program participants to attend supplemental Computer and English classes, here at the Center, so they can learn critical employment skills.
5. We work directly with the schools, collecting progress reports and grades for each child, and report back to you, the sponsor
6. In cases where children have stopped attending school, we work with the parent(s), child and the school to get them back on track.
7. For 2014, we have started work on developing a "home-school" program for children who have dropped out or are struggling within public system.
As a result of these measures, we're happy to report this year we have a less than a 5% dropout rate. With new initiatives, such as our home school program, we want to reduce this number further. It is among our highest priorities.
Contact us directly if you would like to learn more about the program.