Get Involved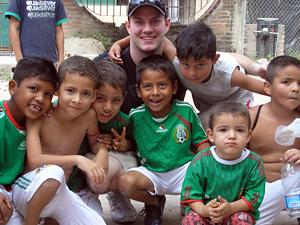 Coming to Vallarta? Visit the Mission!
See and learn about our how the mission operates. While visiting, you can assist with the breakfast program for the children living at the base of the PV city dump, or assist children in our preschool or English classes.
Space is limited to 10 visitors in the van, please contact us to make sure you can come out to visit.
Become a Volunteer
The mission is assessing and developing our programs for 2014. If you are interested in helping, please contact us.
The mission team can meet with you, discuss your interests and the opportunities we may have and find a fit for you. Personality, talents, interests, motivation and availability will all be taken into consideration. Spanish is an asset, but it is not a necessity. Transportation is available in our van, and by local bus, to the mission site.
If you are planning to be in Vallarta for an extended length of time and would like to volunteer with the mission please contact us.
Sponsor a Child
Our School Sponsorship program is among the mission's most important programs. Education is key to breaking the cycle of poverty! Click here to sponsor a child.
Monetary Donations
Montetary donations keep the mission operational, and are critical to fulfilling our vision for the future. Donate Now or contact the center if you have questions.